This is brand new at WELCOME:
Success News
New Customers:

Mynaric

Major construction site

Cruise ships

Hofbräu München

Food industry company

Leading manufacturer of fine-cut and pipe tobacco as well as cigarettes and snuff

Knorr-Bremse

Success News
New Customers:

Manufacturer of self-driving cars

One of the world's leading manufacturers of coating technology

Process solutions company (pharmaceutical / biotech and food sector)

European headquarter of a traditional Japanese company

Company for dried fruit, coffee and tea
Success News
Access Management
Single Access Entry
Visitor Badge with Photo / RFID
about 1,800 persons daily
---
Success News
New Customer:
Brewery
Visitor Management
TruckManagement
LED displays
Success News
Existing Customer: Major Event
Visitor Management
Event Management
3 days/ 32 countries
6,000 visitors
Success News
New Customer: Europe's leading photo service
Visitor Management
Paper labels
Check-In-Terminals
all in one
Neue Lösung
COVID-19 Check
on premis and via App
for visitors
for employees
for contractors
"As an internationally operating group, we want to convince our customers from start to finish with professionalism. "The first impression counts!" ...and this is what WELCOME makes possible!"

"Many thanks to EnterSmart and the cloud solution WELCOME for supporting our event. The entire organising committee was very satisfied with the absolutely smooth and professional handling of the event. Two of the highlight are the check-in code for the guests and the e-mail notification to the respective contact persons after the visitor arrived. The real-time statistics were another highlight and a help at such a big event."

"WELCOME makes it possible for us to accompany our visitors: from the moment they make an appointment, their arrival, their welcome and care during their visit, until they leave our buildings. This also makes it very easy for us to comply with all legal requirements."

"With WELCOME we have chosen a solution that meets our high standards and makes our visitor management digital, more efficient and more timely. The solution is an excellent fit for us as a supplier of high-quality, innovative household products."

"What we like about WELCOME is its universal use as a registration tool for our visitors at our company premises as well as at company events. Our guests regularly honour our professional reception!"

"Innovation and competence are our strengths, and we are presenting this to our visitors in the best possible way with the modern cloud solution WELCOME. Problem-free integration, rapid implementation and simple operation have convinced us."

"As one of the leading providers in the cloud sector, we have chosen the WELCOME cloud solution for our visitor and event management. Our visitors and we are consistently impressed."

"Whether we receive 200 or 2,000 participants at our various events - the check-in process must work. In EnterSmart and the WELCOME solution, we have found a reliable partner who has competently taken our wishes on board and provided us with reliable support during implementation and execution. Many thanks!"
The perfect modernisation for your reception.
WELCOME – Your Visitor Management Software – for your company and your events!
Greet your visitors professionally
Impress from the first moment on, for example with an individual welcome screen for your customers. WELCOME is a real cloud business solution for companies and events, which also takes corporate security to a new level!
WELCOME stands for the digitalisation of processes and the increasingly important security aspect.
Click here for more information
This is what we mean by "clearly arranged"
Your receptionist always has an overview of expected visitors, present visitors and visitors who have already left. And not only for this day. With a mouse click you can filter by "Current week", "Current month" or "Next week", "Next month" etc. Fast, simple and clearly arranged. Typically WELCOME!
Click here for more information
Evaluations at the push of a button
Extensive filter options and sorting functions not only help you to access data quickly, but also enable you to carry out extensive analyses. Always keep an overview and create simple reports that you can save as CSV files. In real time. Simply great for 100% accurate event planning.
Click here for more information
---
So many sophisticated functions.
WELCOME is unique on the market through the extent of its powerful functions. The processes in visitor management and event management as well as corporate security are transparently digital. With the latest further developments such as Outlook integration - also with Office 365 - or support for Microsoft ADFS for convenient user administration, WELCOME once again goes one step further than its competitors.
Click here for more information
And when will you make your decision?
WELCOME is a real business application for all industries and company sizes.
WELCOME is a professional, web-based visitor management software including all essential functions and offering even greater convenience.
Click here for more information
Easy handling - comprehensive data protection
Unlike competing products, no installation is necessary. WELCOME can be used immediately in the cloud across all your locations. Of course, we also guarantee absolute data security in accordance with GDPR.
Click here for more information
---
Manual handling?
All water under the bridge!
WELCOME is a fully automated reception solution. With WELCOME you impress your visitors, the receptionist has an overview, the employee is informed, the plant security receives a real-time attendance list of all visitors. And the management is delighted because the company makes a perfect, innovative impression while at the same time reducing costs.
Click here for more information
WELCOME provides safety
With WELCOME you can have safety instructions signed by your visitors and you can also control which visitors are allowed to access your company. Create your own list of banned visitors or transfer the sanctions list of the German government to WELCOME. This will make it easy for you to identify these unwanted visitors and prohibit access to your company.
Click here for more information
WELCOME - everything is so beautifully digital.
WELCOME is a true digital solution that maps a complete, day-to-day business case from A-Z. Naturally multi-client capable for several company locations.
Click here for more information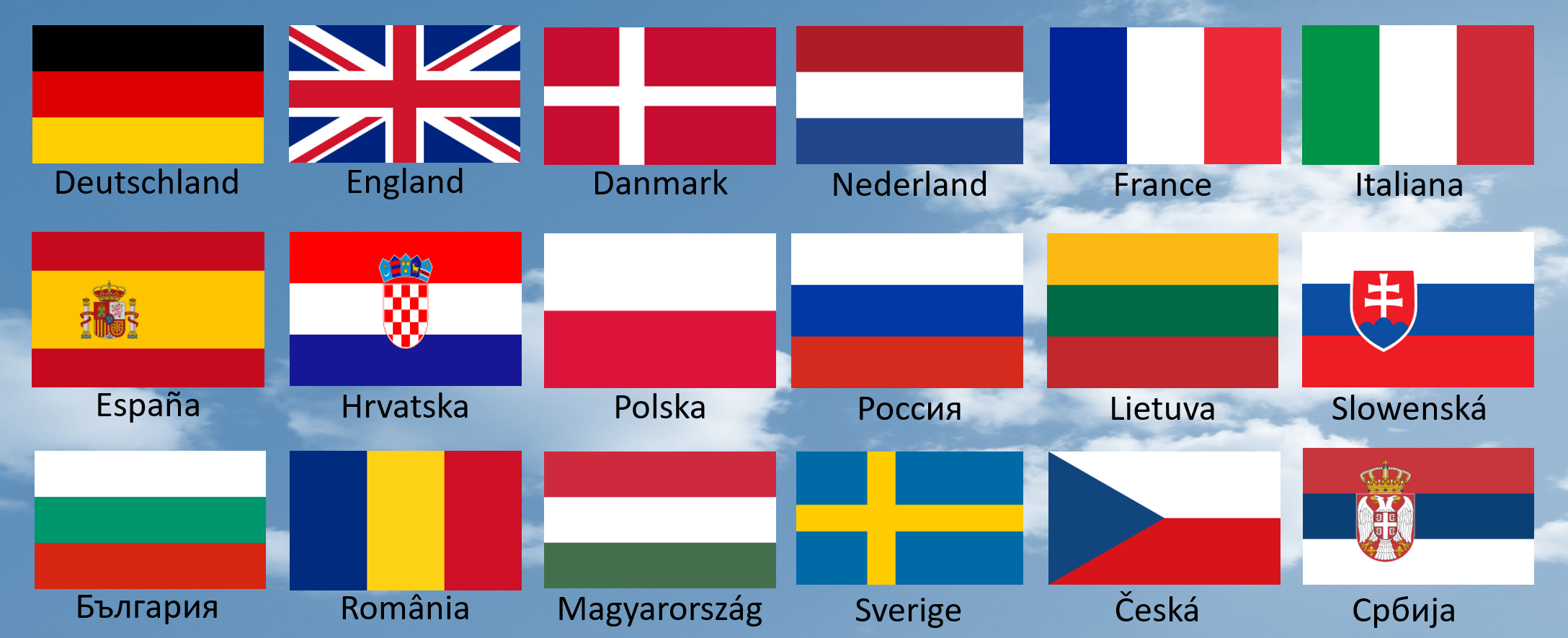 WELCOME is optionally available in 19 languages

WELCOME loves all countries:
Bulgarian
Chinese
Danish
German
English
French
Dutch
Italian
Croatian
Lithuanian
Polish
Romanian
Russian
Swedish
Serbian
Slovakian
Spanish
Czech
Hungarian
Your country / language is not listed?
Please contact us - we will arrange for your language version.
Test it now free of charge
Have security-relevant agreements signed, issue permanent badges for service providers and automatically send out maps and directions.
No further registration data necessary.
No credit card required!
Start with 50 visitor registrations free of charge.
---
WELCOME is one of the
most innovative solutions in Germany!
WELCOME already convinced the jury in 2017 and belonged to the top group of the INNOVATIONSPREIS-IT.
---
The Initiative Mittelstand selects particularly innovative solutions that make medium-sized companies fit for a successful digital future.
WELCOME also qualified in 2018 and is still one of the most innovative solutions today.
---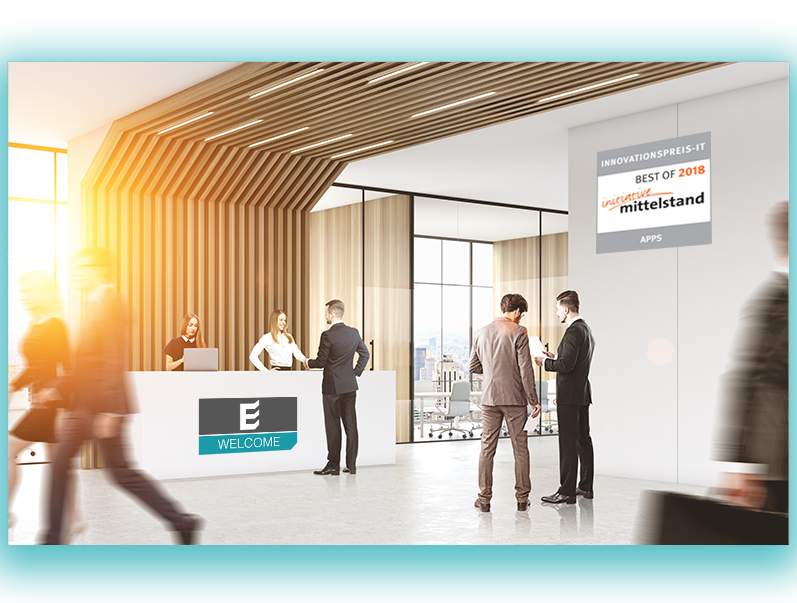 This is how visitor management works!
Excellent and safe.
Sit back and relax for 3 minutes and watch the video.
Then you know how visitor management works with WELCOME. Also in your company.

---
The perfect modernization for each reception area:
the cloud-based visitor management software for companies and events, which also takes corporate security to a new level!
Click here for more information.
Some Highlights
German cloud business solution with installed customer base
Overview of all visitors
Control and evaluation
Simple and intuitive handling
Fast implementation (Outlook and Microsoft Active Directory)
End-to-end digital process
Perfect, emotional appearance
WELCOME: customers all over the world.
Some of our satisfied customers:
---